Self inking ink pads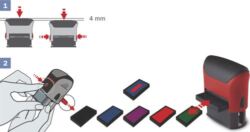 Trodat and Colop Replacement ink pads
We sell all the Colop and Trodat range of replacement pads.
Unlike most on-line businesses we will sell you just one ink pad if required.
How to replace it:

In time the replacement ink pad will become more and more faded, so then you will need to replace it. This is a simple task of simply pressing down your unit slightly and then popping out the old pad and replacing it with a new one.
On the front of your self inking stamp there will be a number an example would be either 4912 or R30 or even P20, but it should be on the unit somewhere! Match up your number with the pads listed, and don't forget to choose a colour, the options are BLACK, BLUE, GREEN, VIOLET, RED or DUAL red and blue (usually for date stamps).